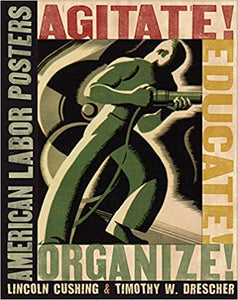 "We seek to inform as well as to celebrate. The best posters about American workers and the jobs at which they labor make up a visually fascinating body of work that rewards our attention. The posters were produced with a dual purpose: to entertain and to inform. They were also vehicles for working people to present themselves visually, which is rarely as straightforward as it might seem because the labor force itself is not monolithic. Nor are the posters about just paid or wage labor. They repeatedly demonstrate that labor issues include both the workplace and the outside community and often portray families and neighbors, not just fellow workers."―from Agitate! Educate! Organize!
In Agitate! Educate! Organize!, Lincoln Cushing and Timothy W. Drescher share their vast knowledge about the rich graphic tradition of labor posters. Lavish full-color reproductions of more than 250 of the best posters that have emerged from the American labor movement ensure that readers will want to return again and again to this visually fascinating treasury of little-known images from the American past. Some of the posters were issued by government programs and campaigns; some were devised by unions as recruiting tools or strike announcements; others were generated by grassroots organizations focused on a particular issue or group of workers―all reveal much about the diverse experiences of working people in the United States.
American labor posters are widely scattered, difficult to locate, and rarely archived. Cushing and Drescher examined several thousand such images in the course their research, guaranteeing a truly representative selection. The presentation of the posters is thematic, with a brief history of activist graphic media followed by chapters on Dignity and Exploitation; Health and Safety; Women; Race and Civil Rights; War, Peace and Internationalism; Solidarity and Organizing; Strikes and Boycotts; Democracy, Voting, and Patriotism; History, Heroes, and Martyrs; and Culture. Along with the stunning color images, the text contributes to a much deeper understanding of the politics, history, artistry, and impact of this genre of activist art and the importance of the labor movement in the transformation of American society over the course of the twentieth century.