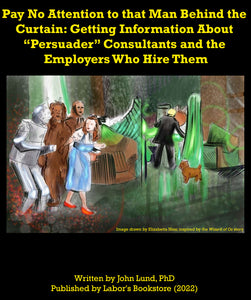 **DIGITAL DOWNLOAD**PDF BOOK**
According to Huffington Post labor reporter David Jamison, in 2021 Amazon spent nearly $4.3 million dollars for persuader consultants at two of its facilities, (CLICK HERE for story). While Amazon timely filed their legally required Form LM-10 detailing expenditures for these consultants, many of those hired by Amazon did not timely file their required Form LM-20. This book reviews the information that should be contained in each form, filing deadlines and how to access and understand them.

Pay No Attention to that Man Behind the Curtain: Getting Information About "Persuader" Consultants and the Employers Who Hire Them is a toolbox for union researchers, organizers, and others seeking to identify employers and the persuader consultants they hire to determine whether their filings are timely and complete. Authored by former OLMS Director Dr. John Lund, the book reviews the required forms and instructions, use of the OLMS and NLRB websites, and basic techniques such as crossmatching to bring delinquent and deficient filings to the attention of OLMS on its new tip line.