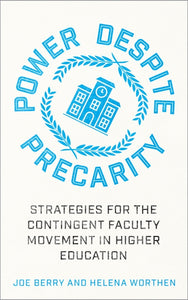 Higher education is the site of an ongoing conflict. At the heart of this struggle are the precariously employed faculty 'contingents' who work without basic job security, living wages or benefits. Yet they have the incentive and, if organized, the power to shape the future of higher education.
Power Despite Precarity is part history, part handbook and a wholly indispensable resource in this fight. Joe Berry and Helena Worthen outline the four historical periods that led to major transitions in the worklives of faculty of this sector. They then take a deep dive into the 30-year-long struggle by California State University lecturers to negotiate what is recognized as the best contract for contingents in the US.
The authors ask: what is the role of universities in society? Whose interests should they serve? What are the necessary conditions for the exercise of academic freedom?  Providing strategic insight for activists at every organizing level, they also tackle 'troublesome questions' around legality, union politics, academic freedom and how to recognize friends (and foes) in the struggle.