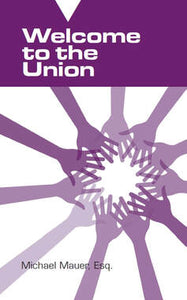 Don't let management's voice be the only one heard by new employees who hire on in your unionized workplace. Welcome them to the job with this easy-to-read, solidarity-building introduction to unionism.
 
It's been well documented that most new employees simply don't understand what unions are or how they work. All they know is what they think they know – and what the boss tells them when they're hired. That's a bad combination that adds up to uninformed, sometimes even union-hostile, co-workers.
Welcome to the Union, by Michael Mauer, author of The Union Member's Complete Guide, helps new co-workers understand unionism. It is designed to win their support and involvement. It's a quick and easy read that offers a concise, to-the-point explanation of how unions operate and the vital role every employee can play helping improve the workplace for all.


Suitable for both private and public sector, the pamphlet covers all the important bases, including explaining the democratic nature of union, how collective bargaining works, member rights and responsibilities and just plain basic union structure. It even has a clip-and-save Weingarten Rights card. It's a perfect ice-breaking handout from stewards or for inclusion in a new-worker membership packet.

16 page pamphlet.