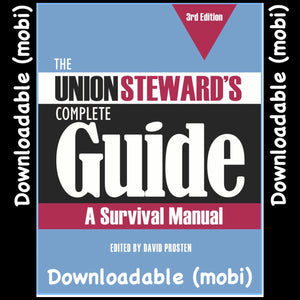 THIS IS A MOBI DOWNLOAD:

Mobi is based on an open-standard eBook format using XHTML and JavaScript. It stands for Mobipocket eBook format, and is the most preferred format by Amazon Kindle. It runs on all platforms except Android.
Who can use Mobi?
Kindle and Kindle Fire
ABOUT THIS TITLE:
More than 140,000 copies of The Union Steward's Complete Guide have been sold since the first edition was published in 1997. This widely-acclaimed resource has been updated once again to reflect changes in today's workplaces and the ever-shifting challenges stewards face in representing their co-workers.

Key data has been brought up to date and new trends and potential areas of conflict are outlined. Perhaps most importantly: a look at the double-edged sword of social media and how it has opened avenues of both job risk and organizing reward to workers and their unions. No steward, from the newest to the most veteran, should go without this incredibly helpful tool that offers hands-on counsel on problems and concerns ranging from the basics of grievance handling to dealing with difficult supervisors or co-workers, to increasing membership involvement in the union.
397 pages paperback