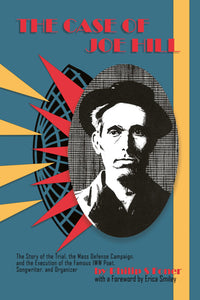 This printing.. 2022
127 pages
The famous Wobbly poet, songwriter, and organizer was executed in Salt Lake City on November 19, 1915. Many felt that he was not guilty of the murder he was charged with, that he did not have a fair trial, and that he was the victim of class persecution.
Here the noted labor historian, Philip S. Foner presents the first complete study of this important labor case. With a new Foreword by Erica Smiley, executive director of Jobs with Justice, The Case of Joe Hill is finally updated for today's struggles.
It is the view of most union activists, novelists, playwrights, poets – and, of course, all I.W.W. writers – who have written on the subject, that Joe Hill was an innocent man framed of murder. He was "railroaded" to prison and executed in spite of the overwhelming evidence that he was not guilty.
Labor martyr or murderer? Frame-up or legend? The answer lies in an examination of the case of Joe Hill.
Towards this end, Philip S. Foner began a study of the case of Joe Hill in connection with his work on the Industrial Workers of the World in Vol. IV of the History of the Labor Movement in the United States. However, because of space limitations, it was not possible to discuss the case in detail in that volume. This convinced Foner that a separate book on Hill's case was necessary. This book is the result.