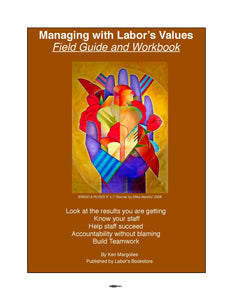 Also check out the 143 page Book on which the Field Guide and Workbook is based upon. 

This short guide and workbook (31 pages) has the key sections of the book, Managing with Labor's Values that managers are most likely to need in their day-to-day work.  
The Guide has helpful worksheets and forms not in the larger book, including Evaluating Staff, Delegating Effectively, Time Management, a blank Performance Improvement form, Dealing with Difficult Situations with Staff, a worksheet for making group assignments, and forms to build trust and analyze and improve how teams function.  
Sections include: 
Look at the results you are getting
Know your staff
Help staff succeed
Accountability without blaming
Build Teamwork
Resources — books, articles, websites, workshops
Email us for further discounts for bulk orders.  Ask about options and prices for customized versions of the book and/or Guide. (your cover and letter to readers).