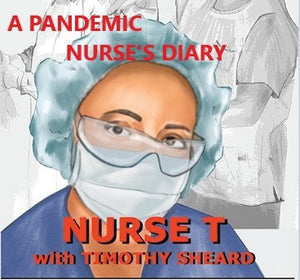 Published in 2020
143 pages
softcover
A sampling inside the book:
March 25, 2020
When I walk through the automatic doors into the ICU at 7 AM, I step into a war zone. There are overflowing trash buckets and debris scattered all over the unit. Four red crash carts sit outside the rooms, their drawers open and largely empty, witnesses to the chaotic night. One of the patients who coded survived, the three others died. One body in a white plastic shroud is still in a room on the bed waiting for a stretcher.
So opens the personal diary of Nurse T. She is one of the thousands of New York City health care workers who worked twelve-hour shifts day after day as the Covid-19 virus raged through the city. Nurse T has given us a personal, poignant and poetic account of her courageous co-workers and of the poor, largely immigrant patients who flooded her facility seeking treatment.
A series of meditations and writing exercises for hospital and other essential workers accompanies the diary. These comforting and healing notations will help workers who were traumatized by their experience regain their inner peace and their hope for the future.
The book brings the reader into the desperate hospital conditions at the height of the pandemic in NYC. An inspiring and informative book for all to understand the work lives of our essential workers.