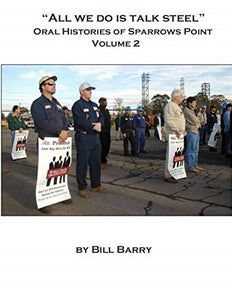 ​Published in 2020
All We Do is Talk Steel: Oral Histories of Sparrows Point is a new collection of interviews with workers from the world's largest steel mill, Bethlehem Steel in Dundalk, MD, which closed in 2012. These interviews emphasize the epic civilization of the steelworkers, their families and the communities they created.
​These workers describe their efforts to build a union, the campaigns to bring civil rights and women's rights into the union—and the opposition to each of these campaigns.
​The workers interviewed are:
Sharon Pritchard

Ed Gorman
Alphonse McNeil
Barbara Elliot
Joe Ed Lawrence
Ted Priester
AImee Noel
Ralph Dudley
RIta Hamlet
Pete Wolfkill
​
There is also a Glossary, explaining steel-talk, for anyone
not from the industry.
​
​The book, 170 pages long, developed from classes the author taught to the steelworkers over the years, and is hopefully the first of a series about them.
I just hope that these transcripts share some of the excitement of the original interviews.