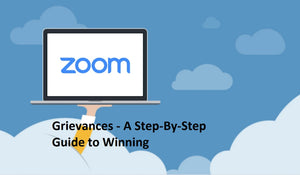 This webinar will explore all aspects of successful grievance processing, starting with evaluating which workplace problems can best be addressed through your grievance procedure. The webinar will explore gathering the relevant facts and understanding how contract language applies; drafting strong grievances and processing them properly through the required steps; constructing and delivering solid arguments in support of your grievances; and deciding whether a settlement is the best outcome.
The presentation will also cover some of the important legal rules that come into play in grievance processing: the duty of fair representation; confidentiality; and establishing past practice. Throughout, there will be a focus on using organizing tactics and strategies as a way to win at grievance / arbitration.
Michael Mauer, your instructor, has worked as an attorney with the National Labor Relations Board and AFSCME, and as an attorney / negotiator with a number of unions, including serving as Director of Organizing and Services for the American Association of University Professors and Director of Collective Bargaining for SEIU. His publications include The Union Member's Complete Guide, Welcome to the Union, and Academic Collective Bargaining.
--------------------------------------------------
What have past attendees said about this webinar?
"Overall outstanding workshop"
"I'm more prepared to go into my first bargaining session"
"Great presentation of foundational concepts of labor law"
"Will use this information to make sure our future bargaining teams have a solid grounding in relevant labor law before bargaining begins"
--------------------------------------------------
When:   October 26, 2023
Where:  Zoom  (a Zoom link will be sent one week prior to the event)
Time:     6:00 - 7:30 p.m. (EST)
Cost:     $40