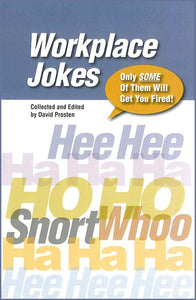 THIS IS A DIGITAL DOWNLOAD --  NOT HARD COPY. Please make sure your device can open an .EPUB file.  NO SHIPPING CHARGES. THIS IS NOT A PDF DOWNLOAD.

Collected and Edited by David Prosten
Did you hear the one about the supervisor and the new employee who bump into each other in a bar? Maybe, but maybe not. In either case, you can find it and a couple hundred other great workplace jokes in this new collection, the only one of its kind. You won't find working people as the butt of jokes here… it's more likely to be the boss, the banker, the yes man and the union-busting lawyer.
The collection comes from 30-plus years of creating, collecting and collaborating on the part of the editor, a lifelong trade unionist, labor publisher and onetime gagwriter-for-hire. The book is broken into appropriate sections – Us and Them – with subcategories for most every workplace issue, ranging from wages to discipline to labor-management relations. As the book's subtitle says, only SOME of the jokes will get you fired, so try them out on your co-workers before you enter your employer's annual talent show! 90 pages.  DIGITAL DOWNLOAD ONLY