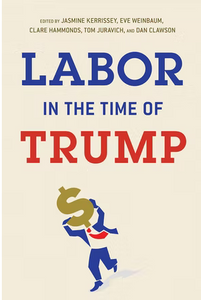 Labor in the Time of Trump critically analyzes the right-wing attack on workers and unions and offers strategies to build a working–class movement.
While President Trump's election in 2016 may have been a wakeup call for labor and the Left, the underlying processes behind this shift to the right have been building for at least forty years.  The contributors show that only by analyzing the vulnerabilities in the right-wing strategy can the labor movement develop an effective response.
Essays in the volume examine the conservative upsurge, explore key challenges the labor movement faces today, and draw lessons from recent activist successes.
Contributors: Donald Cohen, founder and executive director of In the Public Interest; Bill Fletcher, Jr., author of Solidarity Divided; Shannon Gleeson, Cornell University School of Industrial and Labor Relations; Sarah Jaffe, co-host of Dissent Magazine's Belabored podcast; Cedric Johnson, University of Illinois at Chicago; Jennifer Klein, Yale University; Gordon Lafer, University of Oregon's Labor Education and Research Center; Jose La Luz, labor activist and public intellectual; Nancy MacLean, Duke University; MaryBe McMillan, President of the North Carolina state AFL-CIO; Jon Shelton, University of Wisconsin, Green Bay; Lara Skinner, The Worker Institute at Cornell University; Kyla Walters, Sonoma State University