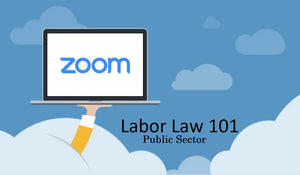 Negotiating a strong contract requires a broad range of knowledge and skills. Increasingly these days, this includes a good understanding of the basics of labor law as it relates to bargaining. This is especially true now that some public sector labor laws are becoming more union-friendly, in some cases even more so than the law that applies to private sector unions.
Employers often seek to have an edge in bargaining by sending lawyers to the table, hoping that they'll intimidate and outmaneuver the (nonlawyers) on the union bargaining team. Some unions respond by lawyering up and have the attorney's spar. But another option is for the union team to have a firm enough grasp of the fundamentals of labor law so that they can hold their own at the table.
This zoom session will cover the basics of labor law that union negotiators in the public sector need to know: understanding "good faith bargaining"; how to use legal mechanisms to force your employer to furnish information; knowing the legal implications of the "subjects of bargaining (mandatory, permissive and unlawful topics); legal and unlawful tactics that can be part of a contract campaign; and impasse resolution (mediation / factfinding / arbitration, imposition of "last, best offer", and strikes and lockouts.)
Michael Mauer, your instructor, has worked as an attorney with the National Labor Relations Board and AFSCME, and as an attorney / negotiator with a number of unions, including serving as Director of Organizing and Services for the American Association of University Professors and Director of Collective Bargaining for SEIU. His publications include The Union Member's Complete Guide, Welcome to the Union, and Academic Collective Bargaining.
--------------------------------------------------
What have past attendees said about this webinar?
"Overall outstanding workshop"
"I'm more prepared to go into my first bargaining session"
"Great presentation of foundational concepts of labor law"
"Will use this information to make sure our future bargaining teams have a solid grounding in relevant labor law before bargaining begins"
--------------------------------------------------
When:   November 16, 2023
Where:  Zoom  (a Zoom link will be sent one week prior to the event)
Time:     6:00 - 7:30 p.m. (EST)
Cost:     $40