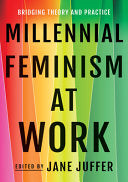 In Millennial Feminism at Work, volume editor Jane Juffer brings together recently graduated students from across the US to reflect on the relevance of their feminist studies programs in their chosen career paths. The result is a dynamic collection of voices, shaking up preconceived ideas and showing the positive influence of gender and sexuality studies on individuals at work.
Encompassing five areas--corporate, education, nonprofit, medical, and media careers--these engaging essays use personal experiences to analyze the pressure on young adults to define themselves through creative work, even when that job may not sustain them financially. Obstacles to feminist work conditions notwithstanding, they urge readers to never downplay their feminist credentials and prove that gender and sexuality studies degrees can serve graduates well in the current marketplace and prepare them for life outside of their alma mater.
Emphasizing the importance of individual stories situated within political and economic structures, Millennial Feminism at Work provides spirited collective advice and a unique window into the lives and careers of young feminists sharing the lessons they have learned.
Contributors: Rose Al Abosy, Rachel Cromidas, Lauren Danzig, Sadaf Ferdowsi, Reina Gattuso, Jael Goldfine, Sassafras Lowrey, Alissa Medina, Samuel Naimi, Stephanie Newman, Justine Parkin, Lily Pierce, Kate Poor, Laura Ramos-Jaimes, Savannah Taylor, Addie Tsai, Hayley Zablotsky