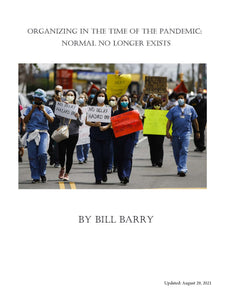 UPDATED 8-29-2021

The update includes new chapters on:
* Returning to work and our rights to bargain over conditions
* The dramatically changing economy and how it affects organizing
* Dealing with internal union disputes over health and safety, especially for health care workers and teachers
* The Amazon campaign in Bessemer, AL
* Increased anti-unionism and increased union strikes
Download for FREE - Organizing in the Time of The Pandemic by long-time labor educator Bill Barry.
Despite unprecedented times at the federal level of government, unions still need to focus on organizing. The booklet, Organizing in the Time of the Pandemic: No More Normal, discusses how.

The pandemic has provoked thousands of job actions that need to grow into full unions. Having a union is the best protection for workers, so let's grab every opportunity to make our movement stronger!
PDF Download - 138 pages