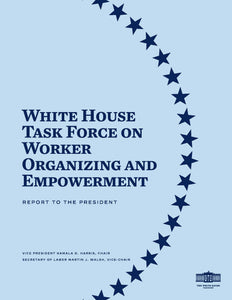 FULL REPORT - FREE PDF DOWNLOAD
2-8-2022   - WASHINGTON, DC – The White House Task Force on Worker Organizing and Empowerment yesterday publicly released its report detailing nearly 70 recommendations, approved by President Biden, that promote worker organizing and collective bargaining for public and private sector employees. The U.S. Office of Personnel Management is leading several of these recommendations, which focus on improving the ability of federal employees to exercise their right to organize and activate their labor rights.
"OPM is pleased to be leading the Biden-Harris Administration's efforts to promote worker empowerment within the federal workforce," said Kiran Ahuja, Director of the Office of Personnel Management. "As the nation's largest employer, the federal government can and should lead by example in encouraging worker organizing and collective bargaining."
OPM has taken actions to reset labor-management relations in the Executive Branch:
On March 5, 2021, OPM issued "Guidance for Implementation of Executive Order 14003 – Protecting the Federal Workforce," which reversed policies widely viewed as being anti-union and designed to weaken employee due process rights;
On May 18, 2021, OPM issued "Guidance on Labor-Management Relations in the Executive Branch," which encouraged agencies to establish labor-management forums and engage in pre-decisional involvement on workplace matters with labor unions before finalizing changes to workplace policies that impact bargaining unit employees; and
On an on-going basis, OPM has provided support to agencies and unions in implementing EO 14003 and other Biden-Harris Administration labor directives aimed at promoting collective bargaining.
In addition, OPM has already taken actions to implement recommendations featured in the report to encourage worker organizing and collective bargaining:
OPM intends for these actions to help every federal employee better understand how to find information related to their collective bargaining rights and how to interact with their union.
OPM is assisting agencies in implementing these actions and will continue to work with agencies to legally remove any barriers to collective bargaining and organizing within the federal workplace.  OPM looks forward to implementing the additional strategies outlined in the Task Force's report to the President, including, but not limited to:
Increasing unions' access and ability to communicate with employees;
Streamlining the process to become a dues-paying member by improving dues processing and forms; and
Developing guidance and labor relations materials for agencies to use in training for managers and supervisors regarding unfair labor practices and neutrality in union organizing campaigns.
Through the recommendations in this report, the federal government will ensure that more workers are informed of their rights, that government spending helps promote good, union jobs, and that barriers to organizing are reduced.
On April 26, 2021, President Biden issued Executive Order 14025 establishing the task force and appointed Vice President Kamala Harris to serve as its Chair and Secretary of Labor Marty Walsh, a longtime union member and leader, to serve as its Vice Chair. The task force, which includes over 20 participant agencies, offices and White House components, is tasked with identifying executive branch policies, practices and programs that can be used, consistent with applicable law, to promote the Biden-Harris Administration's policy of support for worker power, worker organizing and collective bargaining.  The task force's recommendations position the federal government to be a model actor by activating federal authority to support worker empowerment.  The Task Force will submit its second report in six months.